Comunicación para los comunes alimentarios: análisis comparativo de grupos de consumo agroecológico en Portugal
Palabras clave:
Comunes de comunicación, Consumo agroecológico, Comunes alimentarios, Prácticas comunicativas
Resumen
A partir de un marco de análisis procomún, este estudio compara las prácticas de comunicación interna de siete grupos de consumo agroecológico portugueses. Observando la gobernanza, la economía, el conocimiento, la tecnología y la justicia eco-social,revelamos que no hay comunes alimentarios sin comunicación. Basado en métodos deinvestigación-acción y etnografía militante, el estudio combina un grupo focal, métodosvisuales y entrevistas, aportando un enfoque original a los estudios de comunicación desde una epistemología de los comunes.
Descargas
Los datos de descargas todavía no están disponibles.
Citas
Associação pela Manutenção da Agricultura de Proximidade-aMaP. (2018). Carta de Princípios. https://amap.movingcause.org/cartade-principios/#bemcomum
Barranquero, A. (2019). Praxis in Latin American communication thought: A critical appraisal. En H. C. Stephansen & E. Treré (Eds.), Citizen Media and Practice (pp. 57-72). Routledge. https://doi.org/10.4324/9781351247375
Benkler, Y. (2006). The Wealth of Networks: How Social Production Transforms Markets and Freedom. Yale University Press.
Bollier, D. & Helfrich, S. (2019). Free, fair, and alive: The insurgent power of the commons. New Society Publishers.
Brescianini, M. (2019). Estratégias de comunicação integrada de marketing para promover os circuitos curtos agroalimentares (cca) em Portugal (Tesis doctoral). Instituto Superior de Economia e Gestão.
Broad, G. M. (2013). Food is the medium: Food movements, social justice and the communication ecology approach. University of Southern California.
Brunori, G. (2007). Local food and alternative food networks: a communication perspective. Anthropology of food, (S2). https://doi.org/10.4000/aof.430
Calvo, D. (2020). ¿Quién sustenta a quienes sustentan a los comunes?: tecnología y cultura libre ante el capitalismo informacional. Teknokultura, 17(1), 13-22. https://doi.org/10.5209/tekn.64581
Cammaerts, B. (2015). Social media and activism. The International Encyclopedia of Digital Communication and Society, 1-8. https://doi.org/10.1002/9781118767771.wbiedcs083
Carson, R. (2002). Silent spring. Houghton Mifflin Harcourt.
Casas-Cortés, M. I., Osterweil, M. & Powell, D. E. (2008). Blurring boundaries: Recognizing knowledge-practices in the study of social movements. Anthropological Quarterly, 81(1), 17-58. https://doi.org/10.1353/anq.2008.0006
Castells, M., Banat-Weiser, S., Hlebik, S., Kallis, G., Pink, S., Seale, K., ... Varvarousis, A. (2017). Another economy is possible. John Wiley and Sons, Cambridge.
Chen, S., Huang, F. & Zeng, W. (2018). Comments on systematic methodologies of action research in the new millennium: A review of publications 2000–2014. Action Research, 16(4), 341-360. https://doi.org/10.1177/1476750317691103
Christian, D. L. (2016). Avoiding "Sociocracy Wars": How Communities Learn Sociocracy and Use It Effectively... Or Not. Communities, (173), 58-61.
Dias, R. R., Afonso, J. C., Gomes, S., Reis, J. L., Cardoso, A., Domingos, C. ... & Oliveira, T. (2016). Marketing Agroalimentar: Fundamentos e Estudos de Caso. Vida Economica Editorial.
Edwards, F. (2016). Alternative Food Networks. En P. Thompson & D. Kaplan (Eds.), Encyclopedia of Food and Agricultural Ethics. Springer. https://doi.org/10.1007/978-94-007-6167-4_513-1
Espelt, R. (2020). Agroecology prosumption: The role of CSA networks. Journal of Rural Studies, 79, 269-275. https://doi.org/10.1016/j.jrurstud.2020.08.032
Espelt, R. & Moreira, S. (2019). The Role of Digital Platforms in Agroecology Food Consumption Collaboration. A Comparison between Porto and Barcelona. En B. Tejerina Montaña, C. M. de Almeida De Barros & I. Perugorría (Coords.), Sharing Society: the impact of collaborative collective actions in the transformation of contemporary societies (pp. 44-57). Universidad del País Vasco.
Espelt, R., Peña-López, I., Miralbell, O., Martín, T. & Vega, N. (2019). Impact of information and communication technologies in agroecological cooperativism in Catalonia. Agricultural Economics, 65, 59-66. https://doi.org/10.17221/171/2018-AGRICECON
Faria, V. (2020). Agricultura de proximidade, capital social e economia solidária: o caso das Associações para a Manutenção da Agricultura de Proximidade (AMAPs) no norte de Portugal [Reporte técnicocientífico]. Universidade do Porto.
Fuchs, C. (2020). Communication and Capitalism: A Critical Theory.
University of Westminster Press. https://doi.org/10.16997/book45
Fuster Morell, M. (2018). Qualities of the different models of platforms. En M. Fuster Morell (Ed.), Sharing Cities: A worldwide cities overview on platform economy policies with a focus on Barcelona (pp. 125-158). Dimmons Research Group - Universitat Oberta de Catalunya.
Fuster Morell, M., Cigarini, A. & Hidalgo, E. S. (2021). A framework for assessing the commons qualities of citizen science: comparative analysis of five digital platforms. https://osf.io/preprints/socarxiv/pv78g/
Fuster Morell, M. & Espelt, R. (2018). A Framework for Assessing Democratic Qualities in Collaborative Economy Platforms: Analysis of 10 Cases in Barcelona. Urban Science, 2(3), 61. https://doi.org/10.3390/urbansci2030061
Fuster Morell, M. & Espelt, R. (2019). A framework to assess the sustainability of platform economy: the case of Barcelona ecosystem. Sustainability, 11(22), 6450. https://doi.org/10.3390/su11226450
Harvey, D. (2013). Rebel Cities: From the Right to the City to the Urban Revolution. Verso Books.
Hess, C. & Ostrom, E. (2007). Understanding Knowledge as a Commons: From Theory to Practice. MIT Press.
Hope, W. (2020). Climate Change, Communication and Food. The Political Economy of Communication, 7(2). https://polecom.org/index.php/polecom/article/view/115/333
Illich, I. (1983). Silence is a Commons. CoEvolution Quarterly, 40, 5-9.
Juris, J. (2007). Practicing militant ethnography. En S. Shukaitis, D. Graeber & E. Biddle (Eds.), Constituent imagination: Militant investigations//Collective theorization (pp. 164-78). AK Press.
Lewin, K. (1946). Action research and minority problems. Journal of Social Issues, 2(4), 34-46. https://doi.org/10.1111/j.1540-4560.1946.tb02295.x
Linabary, J. R., Cruz, J. M., Allen, B. J., Chalupa, J. A., Dempsey, S. E., Glenn, C. L., ... & Sobande, F. (2021). Envisioning more equitable and just futures: Feminist organizational communication in theory and praxis. Management Communication Quarterly, 35(1), 142-
https://doi.org/10.1177%2F0893318920973598
Linebaugh, P. (2008). The Magna Carta Manifesto: Liberties and Commons for all. University of California Press.
Martins Soria, I. A. (2016). Aproximaciones a la agroecología en Portugal: de la pequeña agricultura familiar y tradicional a la agricultura ecológica, de los canales cortos de comercialización a la soberanía alimentaria: prácticas, racionalidades y resistencias
(Tesis de maestría inédita). Universidad Internacional de Andalucía.
Mattoni, A. (2013). Repertoires of communication in social movement processes. En B. Cammaerts, A. Mattoni & P. McCurdy (Eds.), Mediation and Protest Movements (pp. 39 56). Intellect.
Molero-Cortés, J., Begiristain-Zubillaga, M. & López-García, D. (2019). Estrategias de comunicación para facilitar saltos de escala en agroecología [Documento de síntesis]. Fundación Entretantos, Universidad del País Vasco.
Moreira, S. & Fuster Morell, M. (2020). Food Networks as Urban Commons: Case Study of a Portuguese "Prosumers" Group. Ecological Economics, 177, 106777. https://doi.org/10.1016/j.ecolecon.2020.106777
Ostrom, E. (1990). Governing the Commons. https://doi.org/10.1017/CBO9781316423936
Ostrom, E. & Walker, J. M. (1991). Communication in a commons: Cooperation with external enforcement. Laboratory Research in Political Economy.
Prost, S., Crivellaro, C., Haddon, A. & Comber, R. (2018). Food Democracy in the Making: Designing with Local Food Networks. Proceedings of the 2018 CHI Conference on Human Factors in Computing Systems (pp. 1-14). https://doi.org/10.1145/3173574.3173907
Renau, M., Fuster, M., Espelt, R. (2021). Alternatives al capitalisme de plataforma. Democratitzant l'economia de plataforma. Oikonomics. Revista de Economía, Empresa y Sociedad, 15. https://doi.org/10.7238/o.n15.2102
Rose, G. (2016). Visual Methodologies: An Introduction to the Interpretation of Visual Materials. Sage.
Rosset, P., Collins, J. & Lappé, F. M. (2000). Lessons from the green revolution. Third World Resurgence, 11-14.
Ryan, C. & Jeffreys, K. (2019). Beyond prime time activism: Communication activism and social change. Routledge.
Schrank, Z. & Running, K. (2016). Individualist and collectivist consumer motivations in local organic food markets. Journal of Consumer Culture,18(1), 184-201.https://doi.org/10.1177/1469540516659127
Stehr, N. (Ed.). (2017). The governance of knowledge. Routledge.
URGENCI. (2021). Enacting Resilience: the response of Local Solidarity-based Partnerships for Agroecology to the Covid-19 crisis. https://urgenci.net/enacting-resilience-the-response-of-lspa-to-thecovid-19-crisis/
Volz, P., Weckenbrock, P., Nicolas, C., Jocelyn, P. & Dezsény, Z. (2016). Overview of community supported agriculture in Europe. Urgenci.
Vivero-Pol, J. L. (2017). Food as commons or commodity? Exploring the links between normative valuations and agency in food transition. Sustainability, 9(3), 442. https://doi.org/10.3390/su9030442
Vivero-Pol, J. L., Ferrando, T., De Schutter, O. & Mattei, U. (2018). Routledge Handbook of Food as a Commons. Routledge.
Watson, B. (2017). The troubling evolution of corporate greenwashing. Chain Reaction, (129), 38-40.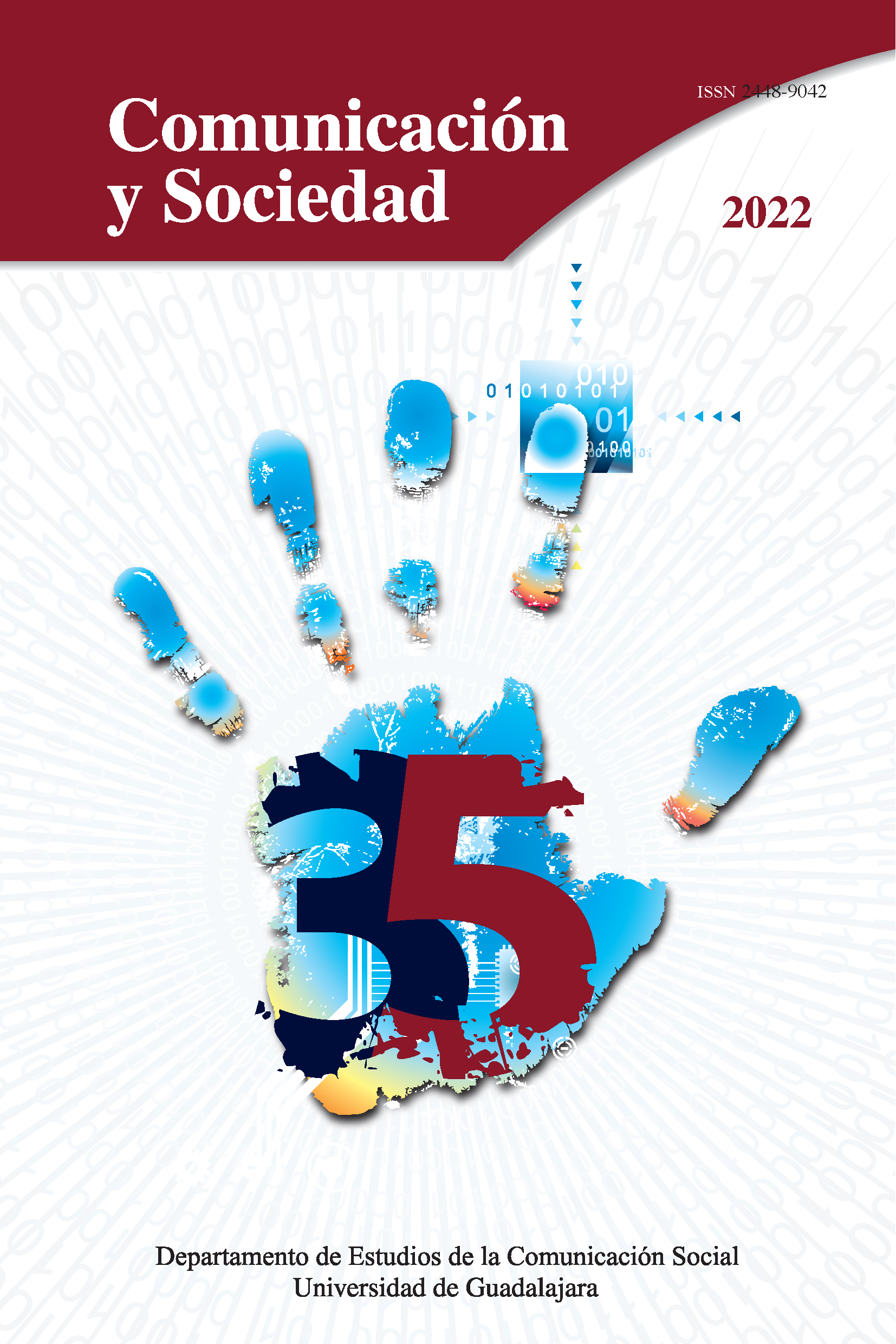 Descargas
Cómo citar
Moreira, S. (2022). Comunicación para los comunes alimentarios: análisis comparativo de grupos de consumo agroecológico en Portugal. Comunicación Y Sociedad, 1-31. https://doi.org/10.32870/cys.v2022.8155
Sección
Prácticas colaborativas de conocimiento y movimientos sociales
Licencia
Los autores/as que publiquen en esta revista aceptan las siguientes condiciones:
De acuerdo con la legislación de derechos de autor, Comunicación y Sociedad reconoce y respeta el derecho moral de los autores, así como la titularidad del derecho patrimonial, el cual será cedido a la Universidad de Guadalajara para su difusión en acceso abierto. Comunicación y Sociedad no realiza cargos a los autores por enviar y procesar artículos para su publicación.
Los autores/as pueden realizar otros acuerdos contractuales independientes y adicionales para la distribución no exclusiva de la versión del artículo publicado en Comunicación y Sociedad (por ejemplo incluirlo en un repositorio institucional o publicarlo en un libro) siempre que indiquen claramente que el trabajo se publicó por primera vez en Comunicación y Sociedad.