Expansión transmedia del video musical: casos de estudio de álbumes visuales en la industria musical actual
Palabras clave:
Álbum visual, Industria musical, Narrativa transmedia, Video musical
Resumen
El álbum visual supone un nuevo artefacto comunicativo originado con la lógica del contexto transmedia en su expansión del formato videoclip musical. Se analizan tres casos de estudio, empleando el análisis multimodal para conocer el significado y aporte de los materiales visuales, buscando elementos de intertextualidad y recursividad de motivos y patrones visuales para la realización de un storytelling. Las conclusiones apuntan a tres caminos diversos en la construcción de una representación autoexpresiva de las artistas, gracias a una performatividad visualizada materializada en una mayor intertextualidad y uso de la apropiación cultural.
Descargas
Los datos de descargas todavía no están disponibles.
Citas
Arne Hansen, K. (2019). (Re)Reading Pop Personae: A Transmedial Approach to Studying the Multiple Construction of Artist Identities. Twentieth-Century Music, 16(3), 501–529. http://doi.org/10.1017/S1478572219000276
Auslander, P. (2019). Framing Personae in Music Videos. En A. Burns & S. Hawkins (Eds.). The Bloomsbury handbook of popular music video analysis (pp. 91-110). Bloomsbury Academic.
Balló, J. (2000). Imágenes del silencio. Los motivos visuales en el cine. Anagrama.
Bates, M. M. (2021). Performing Power, Pursuing Pause: Vocality, Identity, and Listenership in Janelle Monáe's Dirty Computer. University of Oregon ProQuest Dissertations Publishing.
Burns, L. A. (2016). The Concept Album as Visual—Sonic—Textual Spectacle: The Transmedial Storyworld of Coldplay's Mylo Xyloto. IASPMJournal, 6(2), http://www.iaspmjournal.net/index.php/IASPM_Journal/article/view/783
Burns, L. & Lafrance, M. (2002). P.J. Harvey, Is This Desire? (1998). En Disruptive divas. Feminism, Identity and Popular Music (pp. 44-86). Routledge.
Chandler, D. & Munday, R. (2013). Motif. A dictionary of media and Communication. Oxford University Press.
Chion, M. (1993). La audiovisión. Paidós.
Crenshaw, K. (1993). Beyond Racism and Misogyny: Black Feminism and 2 Live Crew. En M. Matsuda, C. Lawrence, R. Delgado, Richard & K. Crenshaw (Eds.), Words that Wound: Critical Race Theory, Assaultive Speech and the First amendment (pp. 111–116). Westview Press.
Cupid, J.A. & Files-Thompson, N. (2016). The Visual album: Beyoncé, Feminism and Digital Spaces. En A. Trier-Bieniek (Ed.), The Beyonce Effect: Essays on Sexuality, Race and Feminism (pp. 94-108). Macfarland & Company, Inc. Publishers.
Davisson, A. (2013). Lady Gaga and the Remaking of Celebrity Culture. McFarland & Company.
Defrantz, T. (2004). The Black Beat Made Visible: Hip Hop Dance and Body Power. En A. Lepecki (Ed.), Of the Presence of the Body: Essays on Dance and Body Theory (pp. 64-81). Wesleyan UP.
De Ville, N. (2003). Album: Style and Image in Sleeve Design. Mitchell Beazley.
Dibben, N. (2014) Visualizing the App Album with Björk's Biophilia. En C. Vernallis, A. Herzog & J. Richardson (Eds.), The Oxford Handbook of Sound and Image in Digital Media (pp-. 682-706). Oxford University Press.
Dubboff, J. (2016, 23 de abril). Beyoncé's New Album Lemonade Will Reportedly Drop on iTunes Sunday Night. Vanity Fair. https://www.vanityfair.com/culture/2016/04/beyonce-lemonade-album-release
Durham, A. (2012). Check on It. Feminist Media Studies, 12(1), 35–49. https://doi.org/10.1080/14680777.2011.558346
Gardner, A. (2016). PJ Harvey and Music Video Performance. Taylor And Francis.
Goodwin, A. (1992). Dancing in the distraction factory: Music television and popular culture. University of Minnesota Press.
Fairclough, K. (2018). Soundtrack self: FKA twigs, music video and celebrity feminism. En G. Arnold, D. Cookney, K. Fairclough & M. N. Goddard (Eds.), Music/video. Histories, aesthetics, media (pp. 121–131). Bloomsbury Academic Publishing.
Harper, P. (2019). BEYONCÉ: Viral Techniques and the Visual Album. Popular Music and Society, 42(1), 61-81. https://doi.org/10.1080/03007766.2019.1555895
Harrison, C. (2014). The visual album as a hybrid art-form: A case study of traditional, personal, and allusive narratives in Beyoncé. Department of Arts and Cultural Sciences, Lunds University. https://lup.lub.lu.se/student-papers/search/publication/4446946
Herman, D. (2009). Basic Elements of Narrative. Wiley-Blackwell.
Jeffery, A. D. (2017). Marketing and materiality in the popular music transmedia of Gorillaz' Plastic Beach. Revista Mediterránea de Comunicación, 8(2), 67-80. https://www.doi.org/10.14198/MEDCOM2017.8.2.5
Jirsa, T. & Korsgaard, M. (2019). The Music Video in Transformation: Notes on a Hybrid Audiovisual Configuration. Music, Sound and the Moving Image, 13(2), 111-122.
Kraaijvanger, J. (2018). Beyoncé: From Media Product to Black Feminist? [Tesis de maestría]. Radboud University Nijmegen.
Kress, G. & Van Leeuwen, T. (2009). Reading Images: The Grammar of Visual Design. Routledge.
Manley, P. (2018). Beyoncé and the Frump: Cover-Versioning in Dance. Journal of Asia-Pacific Pop Culture, 3(2), 258–284. https://doi.org/10.5325/jasiapacipopcult.3.2.0258
Meltzer, L. (2021). Narrative strategies and music in visual albums. Thesis BA Muziekwetenschap. University of Utrecht.
Mitchell, J. W. (1994). Image Theory: Living pictures. Routledge.
HOT 97. (2013, 12 de septiembre). Janelle Monae considers dating Old Man Ebro and Rosenberg calls him a Creep! [video]. YouTube. https://www.youtube.com/watch?v=2k7EgZGP7xE
Samaha, B. (2020, julio 31). The Best Designer Looks from Beyoncé's Black Is King Visual Album. Hapersbazaar. https://www.harpersbazaar.com/celebrity/latest/g33470801/beyonce-black-is-king-fashion/
Sedeño-Valdellos, A. (2009). David Bowie: La identidad como experimento a través del videoclip. Especulo. https://biblioteca.org.ar/libros/150781.pdf
Sedeño-Valdellos, A. M. (2021). El Mal Querer como álbum visual: simbología de lo español, apropiación y narrativa transmedia en los videoclips de Rosalía. Palabra Clave, 24(2), e2426. https://doi.org/10.5294/pacla.2021.24.2.6
Sedeño-Valdellós, A. M., Rodríguez López, J. & Roger Acuña, S. (2016). El videoclip postelevivivo actual. Propuesta metodológica y análisis estético. Revista Latina de Comunicación Social, 71, 332-348. https://doi.org/10.4185/RLCS-2016-1098
Shute, G. (2013). Concept albums. Publishing Platform.
Tinsley, O. (2016, 25 de abril). Beyoncé's Lemonade Is Black Woman Magic. Time.com. http://time.com/4306316/beyonce-lemonade-black-woman-magic/
Thorgerson, S. (1982). The Photo Designs of Hipgnosis: The Goodbye Look. Hutchinson.
Van Dijck, J., Poell, T. & De Wall, M. (2018). The Platform Society: Public Values in a Connected World. Oxford University Press.
Vernallis, C. (2016). Beyoncé's Lemonade, Avant-Garde Aesthetics, and Music Video: The Past and the Future Merge to Meet Us Here. Film Criticism, 40(3).
Yacavone, D. (2015). Film Worlds: A Philosophical Aesthetics of Cinema. Columbia University Press.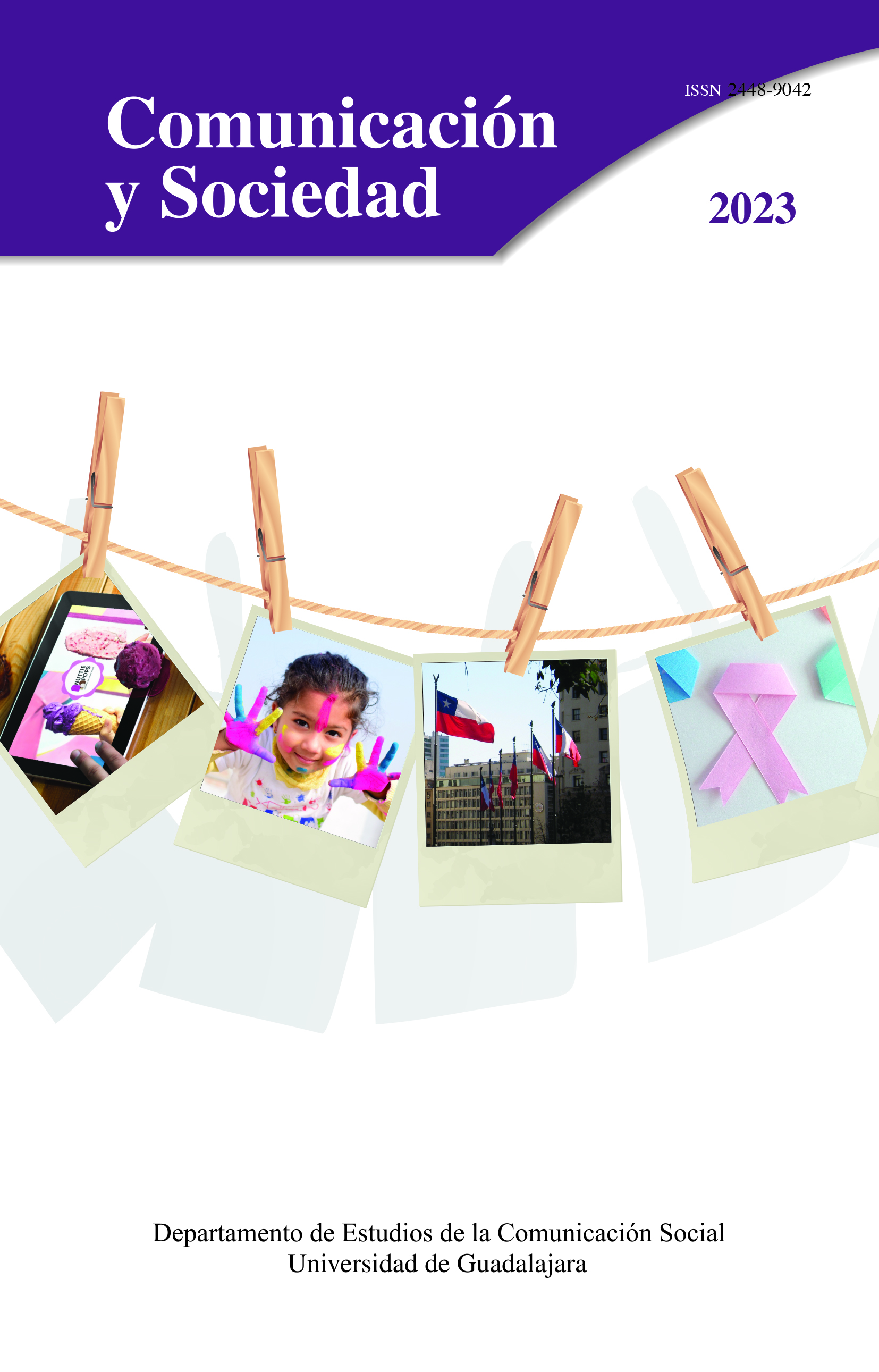 Descargas
Cómo citar
Sedeño Valdellos, A. (2023). Expansión transmedia del video musical: casos de estudio de álbumes visuales en la industria musical actual. Comunicación Y Sociedad, 1-20. https://doi.org/10.32870/cys.v2023.8514
Licencia
Derechos de autor 2023 Ana Sedeño Valdellos
Esta obra está bajo una licencia internacional Creative Commons Atribución-NoComercial 4.0.
Los autores/as que publiquen en esta revista aceptan las siguientes condiciones:
De acuerdo con la legislación de derechos de autor, Comunicación y Sociedad reconoce y respeta el derecho moral de los autores, así como la titularidad del derecho patrimonial, el cual será cedido a la Universidad de Guadalajara para su difusión en acceso abierto. Comunicación y Sociedad no realiza cargos a los autores por enviar y procesar artículos para su publicación.
Los autores/as pueden realizar otros acuerdos contractuales independientes y adicionales para la distribución no exclusiva de la versión del artículo publicado en Comunicación y Sociedad (por ejemplo incluirlo en un repositorio institucional o publicarlo en un libro) siempre que indiquen claramente que el trabajo se publicó por primera vez en Comunicación y Sociedad.